The Center for Design of Analog/Digital Integrated Circuits (CDADIC) is pleased to announce that Rohde & Schwarz is the newest industry member in our research consortium.
For more than 15 years, Rohde & Schwarz has been developing proprietary analog and mixed signal ASICs for applications throughout the company's business units. These ASICs deliver key performance and functionality, enabling Rohde & Schwarz to provide customers worldwide with leading edge instruments and systems. Examples of ASICs developed at Rohde & Schwarz are ultra-low phase noise synthesizer components, oscillators, high-speed data converters and high power microwave components. Rohde & Schwarz joined the research consortium CDADIC to continue providing the company with proprietary key ASICs in the future.
Dr. Gerhard Kahmen, Rohde & Schwarz Vice President R&D Mixed Signal IC, says: "The fast progress in analog and mixed signal ASIC technology and design requires continuous and big effort to remain at and beyond state of the art level. Joining CDADIC is a first class opportunity for Rohde & Schwarz to be part of a leading edge community of analog and mixed signal ASIC design. CDADIC brings together university based research and industry requirements. The personal network, gain of knowledge and exchange of ideas provided by CDADIC will be a valuable contribution for Rohde & Schwarz to meet the challenges of upcoming analog and mixed signal ASIC development."
The Rohde & Schwarz technology group develops, produces and markets innovative information and communications technology products for professional users. Rohde & Schwarz focuses on test and measurement, broadcast and media, cybersecurity, secure communications and monitoring and network testing, areas that address many different industry and government-sector market segments. Specifically: test and measurement for the wireless market, automotive industry, aerospace and defense, industrial electronics and research and education, broadcast and media for network operators, consumer electronics manufacturers and content providers, cybersecurity solutions for business and government authorities, communications and security solutions for critical infrastructures, reconnaissance equipment for homeland and external security, communications and reconnaissance equipment for armed forces.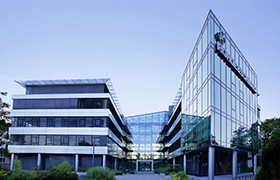 Founded more than 80 years ago, the independent company has an extensive sales and service network in more than 70 countries. On June 30, 2017, Rohde & Schwarz had approximately 10,500 employees. The group achieved a net revenue of approximately EUR 1.9 billion in the 2016/2017 fiscal year (July to June). The company is headquartered in Munich, Germany, and also has regional hubs in Asia and the USA.